When:
30/09/2018 @ 2:30 pm – 5:30 pm
2018-09-30T14:30:00+01:00
2018-09-30T17:30:00+01:00
Where:
YogiYoga
58c Allfarthing Ln
London SW18 2AJ
UK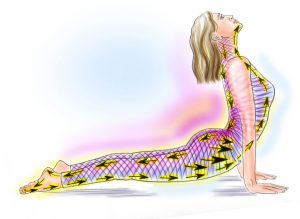 'What is Fascia workshop'- 'this workshop will transform your understanding of how the body moves; it is a new paradigm.
Aims:
To understand how a study of Fascial Anatomy completes our intellectual picture of how the body moves.
What Fascia is and why it has only recently been recognised as an important part of the body's architecture.
How understanding the fascial connections of our bodywide web helps to inform movement.
How to apply this understanding to create a better movement class.
Workshop will include:
Definition of Fascial web Practical explanation of where to find the Fascial web in our body.
Introduction to myofascial connections.
Introduction to biotensegrity and why it is important. Introduction to fascial-fitness principals, that have been identified to reduce injury and enhance the health of our fascial web.
A Practical movement class incorporating all the principals discussed.
This workshop is suitable for yoga teachers, fitness and movement teachers and anyone interested in learning more about modern anatomy.
Cost £45 (early bird £40)