When:
22/09/2019 @ 3:00 pm – 5:30 pm
2019-09-22T15:00:00+01:00
2019-09-22T17:30:00+01:00
Where:
Yogiyoga
58c Allfarthing Ln
London SW18 2AJ
UK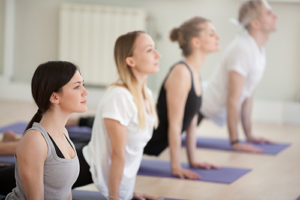 We often rush through our practice in the same way we rush through our daily lives. We are focused on the destination, as opposed to the journey. Slowing down our practice and paying attention to the transitions in the same way as the destination, allows us to refine our practice.
Once we start tapping into the capacity to refine our practice and pay attention to each stage of it, we tap into the ability to move with grace. Our whole practice becomes fluid and effortless; a dance with the breath.
Join Erika on this 2.5 hour exploration of our vinyasa flow practice; breath and movement in tandem.
Sunday, 22nd September, 3:00-5.30pm
£25
Please note that we are unable to offer refunds on workshops if unattended. If you are unable to attend a workshop, you can pass your space on to a person of your choice. You will need to notify the studio in writing prior to the workshop.