When:
30/03/2019 @ 2:45 pm – 5:45 pm
2019-03-30T14:45:00+00:00
2019-03-30T17:45:00+00:00
Where:
Yogiyoga
58c Allfarthing Ln
London SW18 2AJ
UK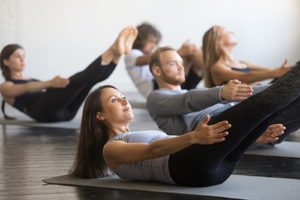 Core may not be the first thing that springs into our minds when thinking of yoga, but a strong, responsive and flexible core plays a vital role in supporting our spine, improving our balance and releasing emotional tension.
In this workshops we will explore:
– The importance of finding balance between building strength and releasing tension in our core and benefits of both.
– Bandhas, mula and uddiyana, how to access them and connect to their energetics.
– How to utilise our core in our practice adding lightness to our poses, finding more balance and life.
Join Ashka for this 3 hour workshop, which promises to open up new gateways to your practice.
Saturday, 30th March, 2:45-5.45pm – Suitable for all levels except beginners
£30
Please note that we are unable to offer refunds on workshops if unattended. If you are unable to attend a workshop, you can pass your space on to a person of your choice. You will need to notify the studio in writing prior to the workshop.</div>